Training Today's Talent for Tomorrow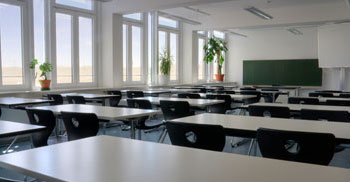 Always dedicated to the ongoing education of our membership to ensure safety and quality, ECA Chicago and IBEW Local 134 opened a newly renovated IBEW/NECA Technical Institute in 2007. The 120,000-square-foot building consists of 12 large classrooms, eight extensive laboratories and a full-size residential and commercial mock-up for apprentices to practice in.
The institute also features the first solar electricity training facility in Illinois. Located on the roof of the main building, the five kilowatt photovoltaic system provides a training model for apprentice electricians while powering one of the classrooms as well as the computers in it.
Located at 6201 W. 115th Street in Alsip, Illinois, the training center's sign is visible from I-294. For more information, please visit the IBEW/NECA Technical Institute website.