Boxing A Knockout For Chicago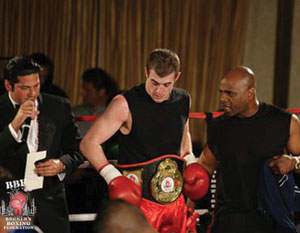 Now in its seventh year, Broker Boxing has begun flexing the muscle of a champ.
In 2008, the Broker Boxing Foundation's (BBF) annual boxing event broke all records, with more than 75 corporate sponsors helping to raise more than $375,000 for Chicago charities. The event, in which competing real estate brokers and architects duke it out, drew nearly 1,500 attendees, as well as an additional 1,500 who watched the event online.
"Broker Boxing has become so big I think people forget it's for charity — that 100 percent of the ticket price is tax deductible," said organizer Eric Nixon of Skokie-based Maron Electric Company. "This event has been successful due to the rallying support of the electrical industry. We look forward to impressing people with Broker Boxing 2009 while also helping those less fortunate in the Chicago area."
Each year the BBF funds different local charities. This year's recipients include the Make-A-Wish Foundation, Y- Me National Breast Cancer Organization, Gilda's Club and Youth Technology Corps.
Under the stewardship of Eric Nixon, President of Maron Electric, as well as David Goldberg, founder of real estate broker The Comras Company, Broker Boxing has won the enthusiastic support of Chicago's electrical community, helping to raise more than $1.6 million since the event's inception.
Tickets for Broker Boxing 2009, set for June 4 at the Hilton Chicago, are available Jan. 1. Organizers expect the event to sell out quickly.
Meantime, want to jump into the ring and duke it out for charity? If so, BBF currently is accepting applications for its 2009 fight card.
To secure tickets, sign up for a fight, or learn more about the event, visit www.bffchicago.com.