Millennium Park Pride Shines in Chicago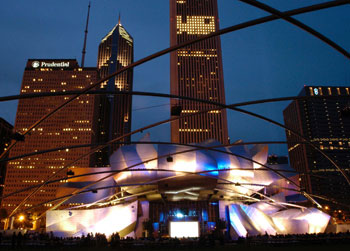 With Chicago a finalist for the 2016 Olympic Games, expect Millennium Park to add luster to its quest for the gold.
Each year, Millennium Park draws hundreds of thousands of visitors to downtown Chicago. However, few realize that the talent and dedication of workers represented by NECA Chicago and IBEW Local were key to bringing the massive attraction to fruition.
As tourists and city residents know, this must-see destination covers a lot of ground, spanning some 24.5 acres just north of The Art Institute of Chicago. Builders recall that as the $475 million Millennium Park began to take shape, the Jay Pritzker Pavilion emerged as the project's single largest undertaking. With seating to accommodate up to 4,000 concert goers and a 95,000-sq.-ft. lawn to accommodate an additional 7,000, electricians not only faced the daunting task of wiring the entire area for lighting, but superior sound transmission as well.
To say they succeeded is understatement. Today, Millennium Park boasts no fewer than 30 awards, even as it continues to garner new accolades.
"Millennium Park is a crowning achievement for the people of Chicago and a dramatic example of a successful public-private partnership," said Mayor Richard M. Daley. "These awards are a testament to our great city and to its many citizens whose hard work and vision made Millennium Park possible."
Millennium Park was conceived to expand Grant Park by removing railroad tracks and parking lots that long dotted its lakefront site. Completed in 2004, the project eventually emerged as the most ambitious public undertaking in
Chicago history.
The Pavilion, designed by renowned architect Frank Gehry, is arguably the most sophisticated venue of its kind in the United States, playing host to the Grant Park Music Festival and other free city events.
Stage and proscenium soar 120 feet, with the latter surrounded by billowing arcs of stainless steel. A massive steel trellis spans Pavilion and lawn alike, while an adjoining bridge, the only such structure designed by Gehry, spans Columbus Drive, linking Millenium Park to the Daley Bicentennial Plaza and Chicago's lakefront park system. Millennium Park also is home to the wildly popular Cloud Gate, one of the world's largest outdoor sculptures.
Designed by British artist Anish Kapoor, the 66-ft.-long, 48-ft.-wide and 33-ft.-high "bean," so nicknamed for its elliptical shape, is clad in polished stainless steel that reflects -- and seemingly expands -- the city's skyline. The permanent installation has become a must-see attraction.
On any given day, hundreds also gather at the interactive Crown Fountain, designed by Spanish artist Jaume Plens and comprised of a pair of 50-ft.-high glass-block towers capable of projecting video images of human faces. The park additionally houses the Lurie Garden, designed by the team of Kathryn Gustafson, Piet Oudolf and Robert Israel. "Millennium Park is an unparalleled destination and a crowning achievement for Chicago," said Mayor Richard M. Daley. "In developing this project, the city and the private sector came together to present a defining vision in architecture, art and landscape design. As the American city with the greatest architectural heritage, Chicago is determined not to stand still and opens the 21st century with this visionary destination for the use and pleasure of Chicagoans and visitors from around the country and around the world." That includes audience members of the Oprah Winfrey Show. This year, the TV talk show host kicked off her new season at the Pritzker Pavilion. Her guests? Olympic athletes.
To learn more about events at Millennium Park, or the park itself, visit www.millenniumpark.org.
Millennium Park Pavilion Project Highlights
This state-of-the-art audio system,revolutionary in the U.S, was designed to create the experience of an indoor concert hall by extending enhanced acoustics over both seats and lawn areas.
Seating to accommodate up to 4,000 people
95,000 square foot Great Lawn serves an audience of 11,000 people
CobraNet digital signal processing and fiber optic signal transmission
72 main speakers comprised of flown center, left, and right speakers and subwoofers
104 distributed overhead speakers for sound and acoustic reinforcement
149 amplifiers capable of producing 316,000 watts of power
45 miles of speaker cable
First large-scale outdoor concert venue installed in the United States
This unique project required skilled workers from Neca/IBEW 134 to ensure that these modern features were installed properly, in order to create a superb concert experience for Chicagoans for many future years to come.