Peak Demand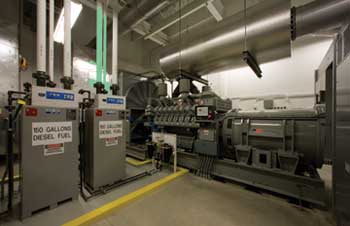 The amount of electrical cabling alone is staggering. Factor in miles of computer conduit and it becomes clear why a small army of tradesmen was required to complete the new DuPont Fabros Data Center in Elk Grove Village, Ill.
"At peak periods, we had upwards of 250 electricians on site. The job was that labor intensive," recalls Francis Sikora, vice president of operations with the Downers Grove, Ill., office of Gibson Electric & Technology Solutions, the project's electrical contractor.
Sikora credits a strong local union for supplying the required manpower and ensuring it was equipped to spend much of its time working below grade.
A former warehouse, the 485,000-sq.-ft. data center houses no fewer than 16 computer rooms capable of accommodating thousands of computers. Although the facility contains 211,000 square feet of raised flooring for wire distribution, additional electrical and computer conduit is buried some 15 feet below its foundation, alongside massive mechanical ducts required to contend with equally massive heat loads.
"For projects of this nature, there's too much conduit, piping and ductwork to locate all of it in raised flooring or a dropped ceiling," Sikora observes. To install below-grade portions, construction crews first needed to remove the structure's slab-on-grade foundation and introduce temporary supports for its steel columns.
That was the easy part, says Sikora, who elaborates that properly juxtaposing electrical, computer and mechanical conduit was akin to assembling a multi-acre jigsaw puzzle, one in which each piece needed to precisely align with the other.
Among other criteria, designers and builders needed to limit the number of 90-degree angles — or bends — in the conduits, particularly those pertaining to fiber-optic cabling.
To ease the process, Gibson and Chicago-based mechanical/electrical engineer EYP, a specialist in mission-critical facilities, relied extensively building information modeling (BIM) software, whose 3-D capabilities "allowed us to draw in and label every piece of piping exactly as it was to be installed," says Sikora, who explains the software accounts for building geometry, spatial relationships, geographic information, and quantities and properties of building components.
Another program, Autodesk's Navisworks, allowed engineers and contractors to identify junctures "where we were running into each other or ourselves," says Sikora, who notes the project's complexity was compounded by a demanding design and construction schedule. "Because it was a design/build project, we were finishing plans and installing equipment at the same time. EYP came up with the basic design of what needed to happen, and it was up to us to coordinate with the other trades to figure out the particulars. We were on site for about 10 months and then spent another two months performing commissioning and testing."
Sikora said DuPont wanted construction completed quickly in order to expedite the move-in of tenants, which include computer-intensive enterprise companies, such as those engaged in sales and inventory control, and so-called hosting companies that sub-lease fully equipped computer rooms to others.
Because much of its work occurred below grade, Gibson was especially mindful of worker safety, a concern Sikora says was partially mitigated by the number of highly skilled union members on the job. "Nevertheless," he says, "we had full-time safety and QA/QC managers on site. Anyone new to the project underwent site orientation before going to work in the field."
To eliminate the potential for power failures, the completed facility features rotary-based uninterrupted power supply (UPS) — a flywheel-like system that continues turning until emergency generators — some 16 in all — come on line. The 2.25 megawatt generators not only support critical loads for computer equipment, but essential loads for life-safety and mechanical equipment.
Gibson held contracts for installation of both life-safety and security systems. According to Sikora, the life-safety plan locates Very Early Smoke Detection Apparatus (VESDA) systems above and below facility floors. Equipped with laser-based optical detectors, VESDAs detect microscopic smoke particles associated with low-intensity smoldering, thereby triggering automatic fire responses, including halon flooding systems, before smoke becomes visible to the eye.
In addition to closed-circuit TVs, the security plan incorporates card keys to control access to all interior spaces. Other security-oriented features include a windowless precast concrete exterior, an attribute that figured prominently in DuPont's decision to adapt the facility to a data center.
"This type of project is all about infrastructure," says Sikora. "It's just solid electrical equipment."
And a solid job by an electrical contractor at the peak of its powers.