Time to get the green movement moving, union leaders urge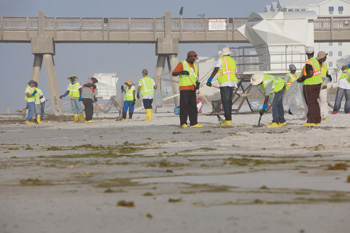 Petroleum still laps against Louisiana's marsh and lingers in its estuaries, remnants of the worst oil spill in U.S. history and one of history's worst environmental disasters. British Petroleum has finally capped its crippled well, but the oil spill, the result of an April 20 drilling rig explosion in the Gulf of Mexico, continues to fuel concern about the short- and long term impact of fossil fuels on the environment. Although the spill prompted President Obama to renew his commitment to alternative energy sources, Congress has yet to respond to the gulf disaster nor to establish a renewable electricity standard, and likely won't during its post-election "lame-duck" session. Despite funding they receive from the American Recovery and Investment Act, many states are too awash in red ink to support the credit and rebate programs required to spur further investment in alternative energy. Yet, we know in our hearts, that if there ever was a time, here it is.
Ambitious agenda
Nevertheless, 24 states, Illinois included, have adopted renewable portfolio standards (RPS) requiring electricity providers to supply a minimum percentage of renewable energy by a specified date. Though the Illinois standard targets 25 percent renewable power by 2025, Jim Gallagher, president of ECA Chicago, believes the time to close the gap is now. "Mounting evidence suggests that long-term use of fossil fuels is imperiling our environment," says Gallagher. "Unfortunately, the the short-term hazards associated with the harvesting of fossil fuels are already apparent. Therefore, I would urge members of ECA and IBEW 134 to express their interest in alternative energy to appropriate parties, be they at the federal, state or local level. Suffice to say ECA Chicago and IBEW 134 support efforts to reduce our nation's dependence on fossil fuels." Both ECA and IBEW Local 134 have spearheaded renewable energy initiatives since the 1990s, including installation of solar power at IBEW's Chicago headquarters and its Alsip-based Technical Institute. In addition to formal courses, including Photovoltaics I and II, a pair of 13-week programs conducted during evening hours, the Technical Center hosts Saturday seminars to provide contractors with a general overview of green building technology. Unemployed journeymen have the option of attending the five-day course Introduction to Renewable Energy, which addresses solar- and wind-powered electricity, among other forms of clean energy. Some area contractors are providing employees with the training required to devote entire divisions to clean energy and green building technology. Employees of Skokien, Ill.-based Cotinental Electrical Construction Co., a veteran of several clean energy projects, undergo training from U.S. Green Building Council (USGBC) that culminates in Leadership in Energy and Environmental Design (LEED) accreditation. "There's no question local contractors have the expertise to install and service a variety of renewable energy technology" says Andris Cukurs, CEO of Suzlon Wind Energy's North American operations, headquartered in Chicago.
Wind and solar
Illinois, Cukurs adds, is particularly well suited to wind energy as a result of its climate and topography."The state currently has an installed wind energy capacity of 1,800 megawatts, though the majority of installations are downstate," he says. "Contrary to popular perception, the Chicago area's wind regimes don't support wind energy as readily as downstate locations." By virtue of its rooftops, Chicago may be better suited to solar installations, though they can be costly due to premiums associated with silcone, a component of solar paneling. Both panels and turbines were installed on a terrace of PepsiCo's Chicago headquarters. In suburban Schiller Park, an 80-ft.-high turbine not only supplies energy to the Great Escape, a casual-dining establishment, but members of the surrounding community. Great Escape proprietor Brian Great says he wanted to set an example, but acknowledges he had to mortgage his restaurant to do so. "The problem," says Kevin O'Shea, executive officer with Elk Grove Village-based Shamrock Electric Co., "is that not everyone has the resources of a PepsiCo. Initial investment in alternative energy can be cost prohibitive, given the payback for some installations is 16 or 17 years. Some rebate programs cover up to 30 percent of installed costs, reducing payback from 17 to 11 years, but that's still too long for many enterprises. Very few companies are going to greenlight an energy initiative with that type of payback schedule attached to it."
Green building systems
The good news is that growing number of companies are undertaking projects that reduce carbon footprints while providing favorable paybacks. It's a formula USGBC put to use in drafting standards for LEED accreditation among building owners. The standards collectively canvass a number of initiatives, including those involving lighting, HVAC, glazing, roofing systems and paving, among other base building systems. "Lighting retrofits provides the quickest payback, particularly in buildings where lights are on for the majority of the day," says O'Shea. "In fact, lighting upgrades have been dubbed the "low- hanging fruit" of energy-conservation programs, since they can be performed with relative ease and require little, if any, maintenance once the upgrades are completed." Owners can reduce payback times with so-called "smart building" software that aligns lighting, heating and air conditioning operations with occupancy schedules. Some programs not only monitor and control lighting and HVAC systems, but indicate ways the spaces are used, thereby allowing for further refining of system settings. Suppliers such as Cisco, CePort and Tridium each provide unique solutions for operators seeking to new and existing buildings. Before embarking on an energy-conservation program, Todd Cowger, a marketer for Cranston, R.I.-based Rise Engineering, which helps building owners qualify for utility-funded upgrades, advises owners to perform the following steps:
Conduct an energy audit of the facility.
Examine utility bills to verify current energy spending.
Consult with vendors to develop a program that conforms to targeted reductions, payback schedules and incentives.
Hire a qualified contractor to installthe new system.
Happily, Chicago has no shortage of qualified contractors. "Our members are not only preparing to supply energy-efficient systems, but also acquiring the expertise to support the systems once they're installed," says Gallagher. "Our goal is to be the primary source for installing and servicing product."