Electricians Bring Power To A Towering Hospital Plan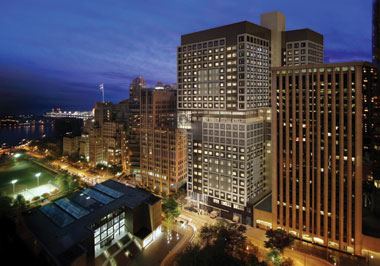 Construction of one of the nation's most advanced pediatric diagnostic and treatment centers proves more than child's play for the project's electrical contracting teams.
Health-care projects don't come much larger or more ambitious than the $1 billion Ann & Robert H. Lurie Children's Hospital of Chicago, a 1.25 million-sq.-ft. tower nearing completion on Northwestern University's medical campus in the heart of the city's Gold Coast.
As summer winds down, electrical and mechanical crews are fitting out the facility's imaging center, one of the last interior spaces to come on line due to the need to incorporate the most up-to-date MRI, CT and CAT Scan technologies available.
Because the 23-story complex will serve as a replacement facility for Children's Memorial Hospital, one of the nation's premier pediatric diagnostic and treatment centers, expectations are running high for the new facility, which will house advanced clinical programs such as cardiac and neurocritical care in a family-centered environment.
Though it won't open until summer 2012, the building will receive its certificate of occupancy by year's end, allowing time for builders and operators to ensure that all systems are in sound working order before staff and patients relocate from Children's Lincoln Park campus.
It has been a long and unrelenting push, says John Southerland, project manager Gurtz Electric Co., the Arlington Heights, Illinois-based contractor tasked with distributing power through the facility. "There's more of everything in hospitals, more power, more conduits, more risers, more closets. You've got emergency lighting, back-up generators, medical air pumps, fire pumps, paging systems. Everything is magnified. And we're building out everything at once. Ordinarily, some hospital construction is deferred in anticipation of future technologies, sometimes for as long as five to seven years. With everything coming on line at once at Lurie Children's, we've encountered huge logistical challenges."
The project's tight 1.8-acre site hasn't helped, says Glenn Carlisle, vice president with Northbrook, Illinois-based Jamerson & Bauwens Electric Co, charged with installing the hospital's major power systems. "Our equipment is quite large," says Carlisle. "We had six 2-megawatt generators, each the size of a small box truck, that we needed to install in the basement, as well as switchgear for the basement and mechanical rooms on the 10th and 23rd floors, so we had to stagger many of our deliveries and stage installations over several days. We couldn't fit the switchgear in elevators or hoists, so it had to be craned in to the building in the midst of ongoing steel and concrete work."
The complex interplay of the hospital's many base building systems prompted project administrators to require that all designers and contractors on the project be proficient in Building Information Technology (BIM), a digital, three-dimensional modeling technique that allows designers and builders to coordinate the location and installation of structural, electrical, mechanical, plumbing life-safety and other systems prior to breaking ground, so that potentially costly and time-consuming conflicts don't arise in the field.
The technology proved especially useful with the Lurie Children's project.
"Because floor plates differ from floor to floor, we had to contend with shifts in the locations of piping, conduit and ductwork, says Bob Nartonis, project executive with Minneapolis-based Mortenson Construction, which is serving as general contractor on the project in a joint venture with Schaumburg, Illinois-based Power Construction Co. "While floors below the 10th floor house diagnostics and testing, those above house patient rooms with completely different floor plans. As a result, we needed to involve all our engineers at the project's outset to ensure systems were integrated into plans as efficiently as possible."
In addition to coordinating the work and schedules of more than 50 subcontractors, Nartonis says BIM provides a digital blueprint that will hospital operators to more easily undertake post-construction remodeling or renovation projects, should the need rise.
He adds that while BIM is frequently used in all types of commercial construction projects, the magnitude and scale of this project pushed some of the available technology to its limits.
Likewise, the power required to operate complex 24-hour diagnostic and treatment centers often discourages hospital operators from pursuing energy-efficient design solutions. Lurie Children's is an exception, having incorporated a number of sustainable design solutions, including highly efficient lighting systems, to achieve LEED certification.
In addition of extensive use of LED lighting, the facility contains more than 3,000 occupancy sensors.
Some of the LED lighting will be put to use in the Crown Sky Garden, where cameras sense movement and light displays respond by changing colors. "The colors are very soothing," says Southerland, "and they're accompanied by sound effects such as running water. The entire hospital was designed to promote wellness and comfort among children."