Event helps Special Olympics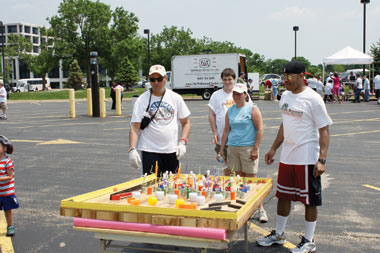 Each year, some 500 Special Olympians from Will and southern Cook Counties eagerly await the State Summer Games in Bloomington, where they compete in a variety of fields, including aquatics, track and field, soccer and weightlifting.
Likewise, each June area building trades kick off the games with a picnic held just weeks before the event. This year was no exception, as Special Olympians and their families gathered to attend the 12th Annual Construction Team Party at insurance company Allstate's corporate campus in Northbrook.
The event not only feted families with food, games and dancing, but raised nearly $20,000 to cover registration costs for area athletes.
In addition to contributing manpower for the event, the Labor Management Cooperation Committee of Chicago (LMCC) donated $5,000 to cover the costs of food and T-shirts, says Special Olympics Area Director Kevin O'Brien.
"They've just been so great with their support," says O'Brien, who notes that numerous builders in the Chicago area, including electrical contractors Kelso-Burnett and McWilliams Electric Company, regularly commit time and resources to ensure the event is a success.
Maureen Lucenti, chief financial officer with Schaumburg-based McWilliam Electric, begins gearing up for the event in March, when she begins soliciting donations from area companies. She also coordinates volunteers to cook, provide entertainment and oversee games at the picnic.
"Area families really look forward to the event," says O'Brien. "We have families who come every year. In 12 years, we've raised more than $200,000."