The Changing Demands of The Industry
Bob Hattier, Electrical Contractor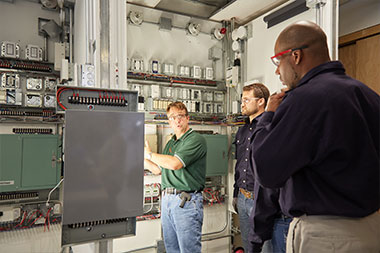 Bob Hattier, IBEW Local 134 member has a lot to say about IN-TECH's new Renewable Energy Training Field. Before he was an electrician, Hattier installed and taught solar technology in the state of Oregon. In addition to his full time work as an electrical contractor, Hattier also teaches solar classes for IBEW Local 134.
"The new training field has updated equipment—plus a wider variety of systems that can be installed on a commercial and industrial scale," said Hattier.
"The hands-on component of the new field are particularly helpful", he adds. "Electricians generally work inside—we install things in walls and ceilings. We install things that will get hidden. Solar work is done outside and for that reason, and for safety reasons, it's important to get that hands-on experience."
He goes further to say, "Solar installations have one distinction that will be an easy concept for electricians to grasp. We're not used to looking at electricity from the point of generation to the point of consumption. With solar, there is electric current flowing the moment the sun hits the panels."
In Illinois, the demand for solar installation is increasing. According to Hattier, western states, like Oregon, were more progressive in solar many years ago but Illinois has now caught up or has surpassed those states, especially with new laws in Illinois that will require 25% of all energy sources to originate from renewable energy by 2025. Illinois now offers grants, rebates, and other incentives to businesses that implement solar and wind systems.
Students will be able to practice installing not only solar panels, but mounting systems, renewable energy storage, fuel cell technologies and electrical vehicle charging stations, with components from four different manufacturers. They can also learn about "smart grid" applications first hand.