Getting The Training
Adam Hart, IBEW Local 134 Apprentice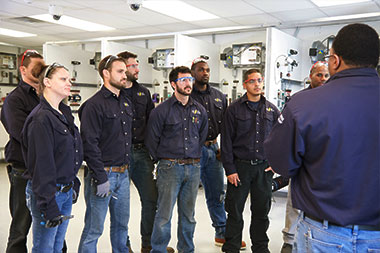 Adam Hart was teaching Social Studies to high school students when he decided to change careers and become an electrician.
"I wanted to do something more physically demanding. I like working with my hands, and working on my feet, rather than being cooped up all day at a computer," he said. Hart also knew that he wanted to study renewable energy. "I was always a strong environmentalist at heart. You may not realize that to install a renewable energy system you're dealing with electricity and there are pretty strict code guidelines," said Hart, "Being an electrician is a key part of the equation."
Last year, Hart was accepted into a five-year apprenticeship program at the IBEW NECA Technical Institute, in hopes to become an electrician and be placed with a contractor who has experience with solar power systems. He will become a journeyman after his apprenticeship, and ultimately, an electrician that specializes in solar energy systems.
As part of his training and new career plan, Hart will be trained in the new Renewable Energy Field, which offers students an experience that has never been available in the U.S. before.
"I'd heard that IBEW Local 134 had a reputation for providing the best training you can get," said Hart, who plans to take every photovoltaic class that the Technical Institute will offer. "The most influential renewable energy projects in the country are happening right now in the 134."
Photovoltaic energy is the direct conversion of sunlight into electricity. New classes will showcase a variety of photovoltaic energy products and systems.
Up For The Challange
As a teacher, and now as a student, Hart is looking forward to experiencing a challenging curriculum. "These guys are progressive. They're teaching us the future," he said. In his spare time, Hart enjoys tinkering with cars and is interested electric vehicles. "The electrical car market will be huge in the next five years," said Hart, who will, through the Field's comprehensive courses, be able to learn and experience first-hand what it's like to install and maintain a solar carport.
A 60' X 22' solar carport was designed for ADA parking and will have Level II 208-volt, 30-amp electric vehicle supply equipment (EVSE) from four different manufacturers.
"Variety is the spice of life," said Harry Ohde, assistant training director, IBEW/NECA, "and the carports will offer much-needed training for our students providing them with a more diverse skill set."
Hart credits Ohde, whom he met at a renewable energy conference last year, for telling him about the Institute's new Field and the hands-on classes it will offer.