Workers Say Goodbye To a Cherished Leader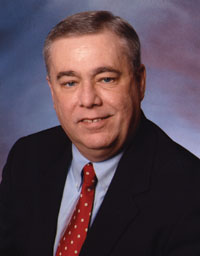 For 11 years, Mike Fitzgerald was the business manager and financial secretary of IBEW Local 134. Last year, he stepped down from his roles with the union for health reasons. And in October, at the age of 57, he passed away at home after a brief illness.
"Mike Fitzgerald was a true friend of the contractors represented by the Electrical Contractors' Association. Our ability to work with Mike to solve mutual problems facing the unionized electrical construction industry in Chicago and Cook County was a real testament to his character, effort, and dedication to make this industry better for everyone," said Brad Weir, President, Electrical Contractors Association.
"Mike Fitzgerald was our leader at the right time in the history of our industry. He brought us out of turmoil into a period of cooperation and prosperity," said Gary Niederkorn, Vice Chairman, LMCC/Chicago.
A third generation electrician from Chicago's South Side, Mike became one of Chicago's most powerful union leaders. Under his guidance, Local 134 raised more than $625,000 in political contributions.
Over the years, Mayor Daley appointed Mike to the Illinois Medical District Commission as well as several other high-profile positions. He served on numerous boards, including the Metropolitan Pier and Exposition Authority, the Amalgamated Bank of Chicago and the Catholic Charities Advisory Board.
Mike also received numerous awards, including the 1999 Rerum Novarum Award for Labor from the Archdiocese of Chicago. Most recently, Mayor Daley bestowed Mike the John E. Rooney Corporate Hero Award for his longtime work with the Chicago Children's Advocacy Center, of which he was a founding board member.
The oldest of seven children, Mike attended Catholic schools in Chicago before graduating from Northern Illinois University in 1972. He earned his law degree in 1980 from DePaul University College of Law while working full-time, attending classes at night and studying during his lunch hours.
He is survived by his wife, Patty; his son, Marty Fitzgerald; his daughter, Sarah Kern; his brothers, James, William and Jerry Fitzgerald, and his sisters, Joanne Guinane and Maureen Kelly.