Electricians Energize St. Angela School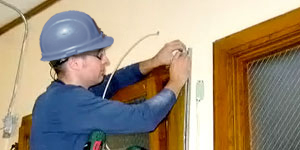 St. Angela School has educated thousands of children since it originally opened its doors in 1921, but time had taken its toll on the building. Despite its excellent educational record, the school was facing hundreds of code violations, had no funds to fix the situation and was in grave danger of being shut down if those problems were not corrected before the school year began.
Hearing of St. Angela's predicament, more than 70 journeyman and apprentice electricians from IBEW Local 134 descended on St. Angela School one Saturday last summer to remedy the countless number of electrical problems cited by the City of Chicago and get the school back in working condition.
Eleven teams of volunteers started at 7 a.m. and were assigned to a work location where tools and materials were waiting for installation. Seven and a half hours later, 700 feet of conduit, 100 receptacles, numerous light fixtures, exit lights and thousands of feet of wire were installed. In all, the group donated more than $40,000 worth of their time.
St. Angela School, which has more than 200 enrolled students and serves a predominately African-American community of the Westside of Chicago, was able to keep its doors open. Thanks to the hard work and donation of time from the volunteers, eager students were able to return and continue their education with the school.
IBEW Local 134 business agent Marty Moylan, who graduated from St. Angela, and business manager Sam Evans recruited the volunteers for the project. Maurice King and Tony Griffin of I²R, an African-American Electricians' Community Group, also encouraged journeymen to participate.
Tim Moylan, a graduate of St. Angela School, Pat Cleary and Kevin Prendergast, all of the IBEW-NECA Technical Institute, prepared plans for the day so when the volunteers arrived, the work was done quickly and seamlessly. Jim McGlynn, NECA contractor and president of McWilliams Electric Co., who coincidentally also attended St. Angela, and generously donated all of the materials for the project. In addition, the LMCC/Chicago sponsored the breakfast and lunch to help the volunteers keep up their strength during the job.
Sr. Mary Finnegan, principal of St. Angela, walked the job during the day and personally thanked each volunteer for their hard work and willingness to give back to the community. "I cannot believe the number of volunteers that are here today," Sr. Mary said. "The good work that you have done this day will extend for years to come and help many students. Your good deed will come back to you 1,000 times."
This event was the first project undertaken by the newly formed Electrical Industry Community Service Program. The program is operated through the IBEW-NECA Technical Institute, its parent organization IBEW Local 134 and the Electrical Contractor's Association of the City of Chicago.