Local Electricians Help Disabled Vet Back On His Feet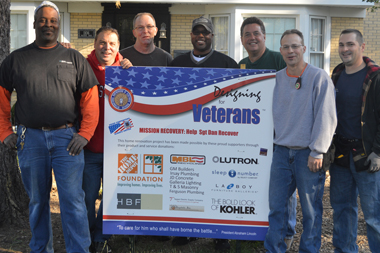 Daniel Tsutsumi is a hero. During his eight-year tenure with the United States Marine Corps, he traveled to Sri Lanka to provide humanitarian aid to survivors of a 2004 tsunami that claimed 230,000 lives. A year later, Tsutsumi was deployed Al Karmah, Iraq, where 11 marines from his battalion were killed, including five friends from his company.
Tsutsumi persevered, only to find himself waging a battle of another kind. In June 2012, five years after his discharge from the Marine Corps., he sustained a traumatic C5 cervical spine injury in a freak accident on Lake Michigan. Now Tsutsumi, a quadriplegic, is fighting his way back. He plans to walk again. He dreams of becoming a firefighter.
Volunteers are helping to make his dreams come true. Last year, Carpentersville Ill.,-based Designing for Veterans drafted plans to renovate a den and construct an addition for Tsutsumi at a family home in Arlington Heights, Ill. Last fall, members of IBEW-134 joined efforts to translate blueprints into bricks and mortar.
"His family was desperate," recalls volunteer Mark Caviani, a foreman with Northbrook, Ill.-based contractor Geary Electric Inc. "Dan basically was living out of the living room."
Plans called for converting the grade-level den to a bedroom for Tsutsumi and equipping the addition with a handicap-accessible bathroom, porch and exterior ramp. "The intent was not only to make electrical services safer, but provide Dan with the mobility to go out, get around and keep his medical appointments," says volunteer Dominic Dire, also a foreman with Geary and, like Tsutsumi, a military veteran and resident of Arlington Heights.
In addition to raising Com Ed service conductors to a safe distance from the addition's roof, electricians doubled power capacity at the residence, from 100 to 200 amps, to accommodate equipment and services critical to Tsutsumi's recovery.
"To support Dan's wheelchair, medical machinery and rehabilitation equipment, we originally intended to add a pair of AMP branch circuits to an existing panel," says Dire. "Problem was, there was no longer room for them. The panel was installed in the 1960s."
A team of five electricians and an apprentice worked hours to upgrade the panel and ensure power delivery conformed to code.
The lesson, says Caviani, "is no matter where you live, whether a good neighborhood or bad, people are hurting. There's so much bad news out there that we need to get the word out when there's an opportunity to do good."