IN-TECH's new renewable energy training field complex to prepare union electricians for tomorrow's careers in sustainable energy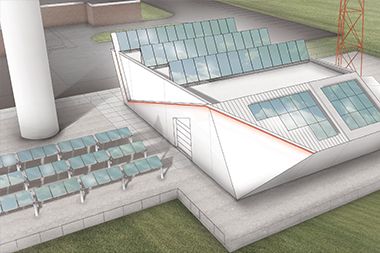 As a world-class training institution for electrical contractors, the IBEW NECA Technical Institute, a.k.a. IN-TECH, understands better than most about the importance of providing the latest in apprenticeship opportunities that prepare its members to deliver quality work for today's jobs.
Such is the case in the fast-growing field of sustainable energy. Commercial and residential developers alike are demanding energy solutions that provide for a cleaner, more efficient use of electricity to power their structures. IN-TECH, in responding to the call, is building the Renewable Energy Training Field to train electricians about the newest developments in sustainable technologies. The facility is scheduled to open in April.
"The emergence of new technologies, coupled with new environmental standards and customer demands, require that our electrical contractors undertake continuous training," says Harry Ohde, (position) at IN-TECH. "The Renewable Energy Training Field gives them another tool that prepares them to do the job right the first time."
Ohde says the Renewable Energy Training Field complex, when completed, will be the largest outdoor training program of its kind in the country. That size will create dual benefits for union electricians. "We created the facility primarily for training purposes but we will also use it as an exhibit area where electrical contractors can bring in their customers to showcase training methods and demonstrate how these methods will enhance the use of sustainable technologies."
Groundbreaking Technological Features
Perhaps the most distinctive element of the Renewable Energy Training Field is the 4,500-square-foot building that resembles a shuttle that just disembarked from a mother ship. The new building will house inverters and distribution equipment. Eventual plans call for a pad that will charge electric cars without plugging them in. The building will also earn the distinction of being the Midwest's first net zero energy facility. A ground-mounted solar field, about the size of a football field, will gather enough energy to not only power the new storage building and a welding lab in the institute's main building, but it will also push excess energy back into the grid.
"We're attempting to connect our solar energy capacity with an existing battery engine system," says Ohde. "We will install 50KW hours of lithium ION batteries and 40KW hours of lead acid batteries. Whatever energy isn't used will be re-supplied back into the grid for use by ComEd. Our goal is to demonstrate how battery-powered technology is constantly changing on a daily basis and how batteries are becoming more affordable."
The training facility also will include a 100-foot-tall cell tower for climbing and mounting antennae and a 60-foot-tall climbing tower for practice ascending wind turbines.
Adds Ohde: "The training offered at the Renewable Energy Training Field gives our contractors a clear competitive edge and keeps union electricians at the forefront of sustainable technology."