New Meaning to "Large-Scale" Project Work at O'Hare International Airport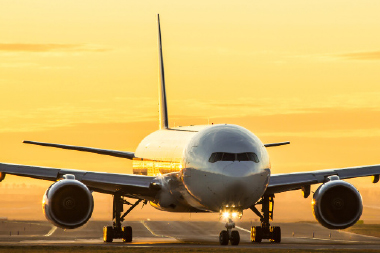 Upon take off and landing at Chicago's O'Hare International Airport, passengers frequently notice the many landmarks of our city, but rarely the less prominent structures that flank the airport runways. One enormous black building sits off to the side of the Arrivals and Departures terminals. It is the Chiller Plant, and is critical to daily life at one of the world's busiest airports. Each and every day of the year, around the clock, this building provides heat and cooling to the entire airport complex, and is currently undergoing a very important upgrade.
"The airport realized the equipment is aging, so this project is pre-emptive to avoid equipment failures in the future," says Brian Lowell, Project Manager for Continental Electrical Construction Company. "We began in December 2015 and it will take approximately two years to complete."
Built between 1942 and 1943, the airport was originally designed as a manufacturing plant for Douglas C-54 airplanes. In 1949, it was renamed for the U.S. Navy's first flying ace and Medal of Honor recipient, Edward O'Hare.
"O'Hare is an older airport," notes Lowell. "It is not uncommon that original components and infrastructure need to be replaced. The facility requires a great deal of care."
Work on the chiller involves balancing manpower, meeting tough deadlines and managing materials and labor. There are many logistics issues presented by a facility that operates 24/7, and because it is an industrial mechanical facility with robust sources of power, everyone present must be extra vigilant about safety.
This job site is a busy one with plenty of activity. Many trades work in one location; some of them are responsible for relocating heavy mechanical equipment such as several 60,000-pound chillers. This means a lot is going on and there is no room for mistakes. Everything worked on is "live", and each worker onsite must be continually aware of potential safety hazards.
The project calls for 4 new chillers and the replacement of 14 Medium Voltage Variable Frequency Drives (VFD's). Each VFD consists of multiple sections that measure approximately 12 feet in length, eight feet in height, and 4 feet in depth. The weight of the VFD's range from 15,000 to 24,000 pounds. The devices arn't called "chillers" for nothing. They are able to flow 15,000 gallons of cooling water per minute and require a great deal of power to operate in addition to the associate 4160V pumps and 480V control valves that make up the system.
The upgrade requires medium voltage power – up to 4,160 volts. The typical low voltage standard being 120V. Medium voltage is becoming more common because of today's equipment and power demands. There is simply increased demand for more power. Some of the motors at the O'Hare structure top out at 1,000 horsepower. Lowell's team is replacing the wiring for 14 of them.
The Department of Aviation has rules and procedures that must be followed by those onsite at the plant. A work plan, or Method of Procedure (MOP) must be carefully developed, and is closely reviewed and approved before work can begin.
The CECCo project team led by Lowell outlines the entire job before anything is put on paper and installed. From engineering and drafting to financials, Lowell is ultimately accountable for the management of the project and its team members, field and office.
While countless travelers and airport personnel will reap the benefits of the chiller plant project, very few will actually be aware of the skill and hard work behind it. Many electrical professionals can work an entire career without ever seeing, let alone working, on this type of equipment.