O'Hare Modernization Program Underway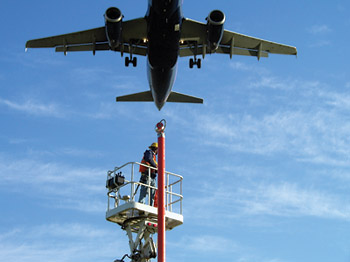 O'Hare International Airport is one of the busiest airports in the world with more than more than 76.5 million passengers flying through its gates last year. In order to accommodate the extremely high level of air traffic that comes through the airport each day and reduce delays, O'Hare is updating its runway infrastructure.
O'Hare's existing airfield has seven runways that all intersect except for one, complicating daily operations. The O'Hare Modernization Program (OMP) will reconfigure the airfield in a more efficient and modern, parallel configuration. When the modernization program is complete, O'Hare will have six parallel east/west runways — three on the north side of the main terminal core area and three on the south.
The $6.6 billion program will reduce delays in all weather conditions and increase capacity at the airfield, allowing O'Hare to meet the region's aviation needs well into the future. The program, which will be done in stages, will include the construction of a new runway and relocation and extension of existing runways.
The first stage of the modernization efforts is to build and open a new runway on the far north end of the airport. When operational, this runway will help ease delays during bad weather. Currently, the airfield can only accommodate two arrival streams during inclement weather. This new runway will allow the airport to have three arrival streams.
The second stage of the modernization program is to extend an existing runway, build and open a new runway, and close an existing runway. These changes will provide additional runway length, airfield capacity and operational flexibility. In addition, OMP may also build a new western concourse facility if the market demand is there.
The final stage is to extend another one of the runways, build and open two new parallel runways and close two existing runways. Depending on market conditions, this step may also include building additional gate facilities in the west terminal area and the airport's existing terminal core.
For more information about the program, visit the O'Hare Modernization Program website.