Union Members Unite to Rebuild Chicago Communities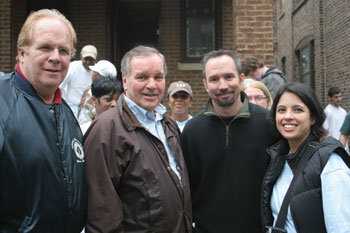 It's known as National Rebuilding Day, and it has become a rite of spring for many members of IBEW 134.
Each year, on the last Saturday in April, electricians pack their gear, don their hard hats, and travel to low-income neighborhoods to repair dilapidated homes, community centers and shelters. This year, they traveled to the City of Berwyn and Chicago's Austin neighborhood, where they spent the entire day working alongside plumbers and carpenters to mend some 80 homes in all.
Their time was donated. So were their materials. Without their assistance, Rebuilding Together Metro Chicago (RT*MC), a non-profit organization, would fall well short of its of its mission to improve impoverished Chicago communities, says assistant director Lisa Miranda. In fact, she says, IBEW has supported National Rebuilding Day since 1992, when RT*MC first joined forces with the City of Chicago, Cook County and skilled labor in hopes of improving living conditions among low-income residents.
"Some of them were initially suspicious," Miranda recalls. "In the past, they'd fallen prey to contractors who did shoddy work or were shysters. Union workers helped legitimize our efforts. Residents knew they could be assured of quality work." This year was no exception. "We had a very successful day," says Miranda. "The electricians – these guys are pros. They know the quality of the housing stock and know what needs be done to upgrade it."
Preparations for National Rebuilding Day began weeks in advance, when IBEW 134 dispatched workers to survey homes selected for repair, says IBEW Business Agent Sam Evans, who spearheaded the effort.
On April 24, workers arrived on site at 7:00 a.m., and remained there until all work was completed. While carpenters busied themselves repairing or installing porches and doors, electricians focused on lighting and life-safety systems, says Evans. "Many of the jobs were especially demanding this year," he elaborates. "In addition to replacing ceiling fans and lighting fixtures, we made the repairs required to ensure all homes were properly grounded."
"Even the little things make a difference," says Miranda. "Installing or repairing a simple light fixture means someone isn't going to fall and become injured. That's a huge concern among the elderly. They're so grateful."