Delivered with Care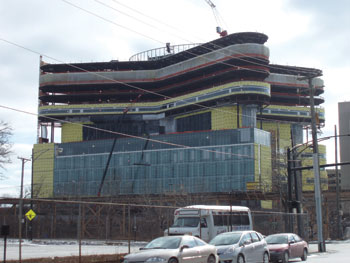 Its butterfly-like form not only brings caregivers in closer proximity to patients, but serves as a metaphor for the ongoing metamorphosis of modern health care.
Although Rush University Medical Center's Atrium Addition won't open until January 2012, the $575 million hospital, designed by Chicago-based architect Perkins & Will, is already gaining renown for its innovative programs. They include a three-story "interventional platform" to consolidate imaging, surgery and specialty procedures, and an emergency preparedness center to contend with mass casualties and epidemics such as those triggered by bioterrorism and pandemics.
The 14-story, 800,000-sq.-ft. facility also seeks to set a new standard for sustainable design, as specified by the U.S. Green Building Council's Leadership in Energy and Environmental Design (LEED) program. When completed, the addition and similarly designed structures on the Rush campus will comprise the nation's largest full service medical center to earn Gold LEED certification. Among other features, the hospital will include energy-efficient lighting, heating and cooling systems. In the future, it also may incorporate photovoltaic power or similar sources of renewable energy.
The prodigious program and aggressive schedule prompted Rush to divide on-site electrical work into two contracts, according to Zac Hillyard, mechanical/electrical/plumbing project manager with Power Jacobs, the project's joint-venture construction manager. While Arlington Heights, Ill.-based Gurtz Electric Co. is installing all base-building systems, including risers, Downers Grove-based Gibson Electric and Technology Solutions is performing branch distribution of power, lighting and life-safety systems throughout the facility, including its surgical, diagnostic and therapeutic suites, as well as a five-story acute and critical care center.
In part, both contractors were selected for the project because of their extensive experience with large-scale health care facilities. Gibson, for its part, performed work on Chicago's Swedish Covenant Hospital and the Loyola University Hospital Tower in Maywood. Among other facilities, Gurtz participated in the construction of the Ann and Robert H. Lurie Children's Hospital of Chicago and Lutheran General Hospital in Park Ridge. Both contractors are veterans of Chicago's mammoth Northwestern Memorial Hospital, completed in 2002.
"So far, the Rush project has been a great experience," says Hillyard. "Both Gibson and Gurtz are executing their contracts as planned and managing their manpower to meet a demanding schedule – less than three years from ground breaking to occupancy."
Because Rush opted to execute the project with a construction manager rather than a general contractor, both Gibson and Gurtz function as primary contractors rather than subcontractors, an arrangement requiring both to assume greater responsibility for coordinating with other trades.
As construction progresses, coordination will assume greater urgency, says Jack Smith, project executive with Gibson Electric. "We don't have the storage capacity we once did, now that we're entering final phases of the project. We're also dealing with a tight urban site adjacent to the original hospital, which has remained fully operational throughout construction. As a result, we can't store anything we're not capable of installing within two weeks, a condition that prompted a good deal of coordination between our field workers and main office. We essentially have no staging area whatsoever."
Conditions for power distribution are equally tight, since the design precludes underfloor distribution of utilities and other base-building systems. Accordingly, all such services are being routed through the ceiling plenum, an arrangement that likewise requires tight coordination among the project's designers and builders, including Chicago based mechanical/electrical engineer Environmental Systems Design Inc. During peak periods, as many as 100 Gibson electricians have been present on site.
Plans call for completion of tenant fit out this fall, though the addition is set to permanently access power from ComEd as early as June, according to Hillyard. An earlier phase of the project called for construction of a central energy plant to serve the addition and other campus buildings, including a new five-story orthopedic facility and seven-story parking structure, all part of a 10-year program known as The Rush Transformation. Owing to requirements for an uninterrupted power supply, the energy plant houses no fewer than six emergency generators.
Look for Rush to generate discussion among health care providers, once its transformation is complete and its facilities take flight.