Casino takes all in green design gamble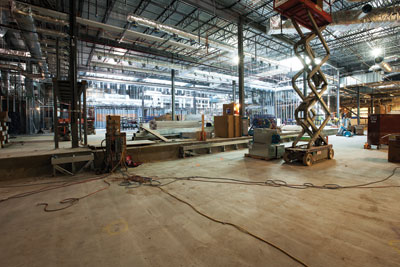 Seemingly everyone has something at stake in the $450 million Rivers Casino, now nearing completion in Des Plaines, Ill., after nearly two painstaking decades of planning.
Des Plaines Mayor Martin Moylan is betting the 150,000-sq.-ft. structure will turn his town into a tourist destination. Developer Midwest Gaming and Entertainment LLC is gambling the facility will turn a Vegas-size profit. And Illinois Governor Pat Quinn is wagering that $150 million in state funds will flow annually from Rivers, the third "boat-in-moat" casino to be built in Illinois.
The sure bet is the facility itself, a state-of-the-art structure that rests on a man-made water basin due to regulations banning construction of land-based casinos. The innovations don't end there. Among other distinctions. Rivers will be the state's first LEED-certified casino owing to its energy-efficient design, which selectively incorporates skylights and clerestories in order to reduce artificial lighting loads.
The approach is a departure from traditional casino design, which generally eschews natural lighting, says Jeff Weir, project manager with Kelso-Burnett Co., the casino's Rolling Meadows-based electrical contractor. "It's challenging to achieve LEED certification with casinos because they're open 24 hours a day, 365 days a year," says Weir. "As a result, standard energy-saving devices such as occupancy sensors aren't really an option."
Neither are muted lighting strategies. Casino goers expect Vegas-style glitz, and here they get it with energy-efficient LED fixtures that add dazzle to a five-story parking structure and a trio of tower-like structures. Supplied by Burlington, Massachusetts-based lighting manufacturer Philips, the high-intensity fixtures generate rich, saturated colors and color-changing effects for both wall-washing and floodlighting applications. They also generate an output of more than 1,200 lumens.
"Because the lighting is programmable, the towers and parking structure can change colors in an instant," says Weir. "We can achieve literally thousands of color variations."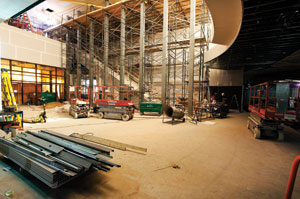 Ambient lighting within is provided by a combination of coved and cold-cathode fixtures. The casino will also incorporate high-efficiency HVAC units, air-recovery wheels, a reflective white roof membrane, and "living" green walls, all with an eye toward achieving sustainability. Exactly which level of LEED certification its developer will seek—certified, silver, gold, or platinum—is still unclear, says Eric Bullion, project executive with Pepper Construction, the project's Chicago-based general contractor.
The dust, he elaborates, has literally yet to settle. "There are a lot of changes associated with these types of projects," he says. "Gaming layouts and other elements are still in a state of flux."
In all, the casino will house no fewer than 1,200 gambling positions and about 30,000 square feet of restaurant and bar space, including a pizza parlor, deli, buffet, coffee shop, steakhouse and sports bar. Attendant cabling requirements were complex, and during planning project team members employed three-dimensional Building Information Modeling (BIM) to ensure that lighting, surveillance and audio-visual cabling didn't conflict with mechanical, life-safety and plumbing systems in ceilings and other confined spaces.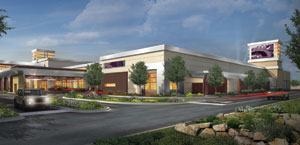 "One of the most challenging aspects of casino design is ensuring there's sufficient space for all of the conduit, piping and ductwork that mechanical, electrical and plumbing (MEP) systems require," says Bullion. "We spent five months coordinating our MEP systems so that no conflicts arose when we began installing those systems."
"The objective is to reduce downtime by eliminating all conflicts while they're still on paper," Weir elaborates. "In this case, BIM was particularly helpful in routing our systems through the ceiling plenum and raised floors. It allowed us to go in and install our racks and other equipment early, whereas we typically go in last, behind sprinkler systems and the like. As a result, we didn't find ourselves navigating around obstacles."
Each slot bank on the casino floor is maintained by a specialty system known as "Slot Link," whose soft wiring system extends to main junction boxes and, from there, to the banks via 35-ft.-long whips, or flexible conduit. Despite a challenging design program, the project is proceeding as planned and is due to open this summer, says Bullion. Future phases call for additional parking and casino space, a prospect sure to satisfy the interests of Rivers' myriad stakeholders.