The Future Energy Jobs Act (FEJA) — What it Means to Our Industry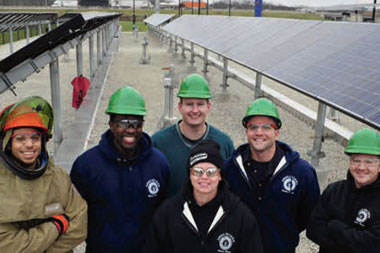 As 2016 drew to a close, and after more than two years of difficult negotiations, important new clean energy and climate legislation was passed in Illinois. The Future Energy Jobs Act (Senate Bill 2814) became law on June 1, 2017. It's significant because it puts Illinois on track to acquire 25% of its energy from renewable sources by 2025. New provisions contained in the act set explicit, long-term requirements that will ensure that renewable energy credits are supplied by new construction of wind and solar projects, including community solar, low-income solar, broweld solar, and distributed generation projects. What does the FEJA mean for electrical contractors and electricians in Illinois? More opportunity, and an opportunity to apply the extensive renewable energy training provided at NECA IBEW IN-TECH and skilled knowledge and experience of union contractors.
Here are some facts and figures. According to The Solar Foundation, there were 260,077 solar energy workers in 2016. The foundation predicts there will be at least a 10% increase in 2017. The FEJA impacts job training and payment help by dedicating $750 million to training programs for new energy jobs and that also helps consumers lower their utility bills.
Since 2010, employment in the solar industry has almost tripled. With the passage of FEJA, experts believe there will be even greater growth. The majority of solar energy in 2016 was based in Cook County. With the implementation of the act, Illinois can expect a boost in jobs this year and again in 2018.
The focus is on creating clean energy jobs that result in long term jobs across Illinois. The provisions in the act are expected to lead to $12 to $15 billion in private investment and create new jobs. Illinois will be one of the top energy efficiency programs in the country, building on the success of 2007 energy efficiency programs that have led to more than 85,000 jobs across the state. With the passing of the FEJA, the number of jobs is expected to grow dramatically