Harry Ohde Awarded 2017 Labor Man of The Year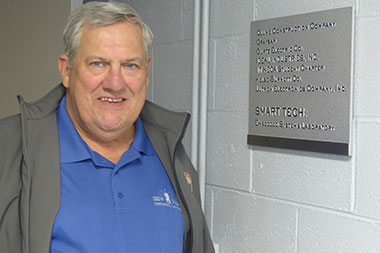 This year NECA/IBEW 134 was very proud to pronounce Harry Ohde as Labor Man of The Year, a recognition reserved for those that truly give to the industry and make a difference for union members. At the same time, it is not reserved for only members; it can be given to anyone that has had a very positive impact on NECA/IBEW 134.
Don Finn, Business Manager & Financial Secretary of IBEW 134, is quick to provide praise for all the dedication and service that Ohde has provided. "Harry is involved in so many committees and sits on so many boards, not just for his recent pioneering efforts for renewable energy training, but everything to do with the Union electrical industry. He is not shy when it comes to helping others, either, and also helps a group in the Archdiocese of Chicago to assist struggling parishes across Chicagoland so they may gain their footing and become modernized when little to no finances are available. His recent work for Saint Margaret of Scotland, located just off 99th and the Dan Ryan, has generated up to $500,000 worth of donated time required to overhaul outdating electrical work throughout the facility, making it code compliant and efficient.
When speaking with Harry, his enthusiasm overflows, not only for the Union, which he was introduced to while growing up, tagging along with his dad on a diverse array of union electrical projects, but also for his passion as an educator. It is here he makes a real difference to the community while doing what he loves — ensuring all union electricians coming out of the South Suburban training facility have the knowledge and expertise required to flourish in a competitive market.
Harry talks about his career path fondly. "My mother always wanted me to get a college degree, so it wasn't until after I had gotten my diploma that I was able to focus on what I felt most passionate about. In 1977 I completed my education but then after only few years out, moved right onto a path as an apprentice, skilled in the trade through the rigorous training curriculum demanded by IBEW local 134. It was with 134 that I learned every aspect of the industry, allowing me to move up from apprentice to journeyman and gain the knowledge and experience I would need. I had entered the workforce but during my 3rd year as an apprentice, my daughter, Kelly Anne was born. She gave me an entirely new perspective on things because I wanted nothing more than to provide a great life for her and my family. This came to fruition, as one day I received a call from the Union Hall, and the voice on the other side of the phone offered me a teaching position for IBEW local 134. This was incredible news! Not only was I going to be able to provide even more stability for my family, I was going to do so while making a difference in the world by empowering so many others."
When it comes to having an influence, perhaps Harry's biggest contribution has been his keen vision and persistence that lead to one of the Union's most recent historic achievements, the development of a Renewable Energy Training Field, located at NECA/IBEW local 134's IN-TECH facility in Alsip. There is simply no other facility of its kind in the country, and Harry understood the timeliness and impact that such a technological showcase would provide. It serves as the country's very first hands-on training facility of its kind, encompassing all aspects of Renewable Energy, from solar to wind, to electric vehicle charging, to energy storage and management, all working together in a real-case example of a functional microgrid. Take a tour of the field with Harry, and you'll receive the most passionate and thorough explanation possible, a complete detailing of each of the field's components along with inspiring ideas of what is to come for the future as emerging technologies evolve. It's what this world needs right now, and there is a tremendous opportunity and expectation that the Union will be on the cutting edge.
What does Union mean to Harry? "Everything", he smiles. "It's the ability to live the American dream, to plan a bright future, and to be able to retire comfortably. Union means brotherhood and sisterhood, and developing strong relationship and friends. Union means the ability to be a mentor for the thousands of apprentices and journeymen I have instructed throughout the years. Union meant the "living dream"; and for me it means IBEW local 134.