Going Green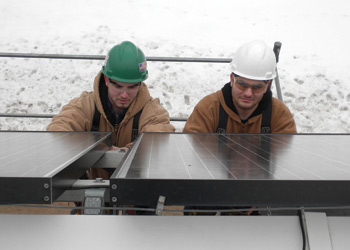 Schneider Electric has added considerable voltage to the green-building movement by powering the largest corporate solar array installation in Illinois history. The installation, not coincidentally, occurred at Schneider's North American headquarters in Palatine, IL, home to some 350 employees.
"We made a decision to walk the talk, says Martin Hanna, vice president of communications with Schneider, whose energy-management group specializes in a variety of renewable energies, including wind, geothermal and biomass. "We wanted to showcase our abilities — demonstrate to our employees, customers, and investors that we're capable of powering, controlling and monitoring a major solar installation."
Major it is. The installation, which is expected to reduce electrical demand at the facility by 2 to 3 percent annually, carries a rated output of 60.5 kilowatts (kW) though actual output varies in accordance with season, sun angle and weather conditions.
In addition to Schneider's expertise, the installation showcases equipment the contractor manufactures, including its Xantrex inverter and PowerLogic metering and monitoring equipment — the latter incorporated into an on-site "green display" to educate visitors about solar energy usage and corresponding reductions in CO2 emissions. Schneider Project Manager and Energy Engineering Specialist Vince Throop says the company initially evaluated several renewable resources before selecting a photovoltaic-based system. Studies indicated the site wasn't ideally suited for wind, biomass or other alternatives, he elaborates.
Problem was, Palatine wasn't ideally suited for a solar installation. Over a period of six months, Schneider worked with the Village of Palatine to amend zoning and permitting to include solar projects, an effort that involved canvassing area residents. The installation, completed in December, rises from a hill adjacent to the headquarters. The array rests atop 29 steel posts, each supporting a flower-like, extruded aluminum mounting system containing eight photovoltaic panels. The panels — some 232 in all — are configured to resemble Schneider's corporate logo when viewed from plane or helicopter. It's a shrewd bit of showmanship, even if the configuration presented challenges to Skokie, IL-based Continental Electrical Construction Co., a subcontractor to J.C. Power & Control, the project's Elk Grove Village-based electrical contractor. "With a conventional solar array, your typically working with one long rack with few, if any, irregularities from one end to the other," observes Mark Goldberg, Continental's director of energy services. "Here, each of the 29 poles contained an independent rack — or mount — meaning we had to calibrate racking 29 times rather than once." By the time Continental's forces hit the ground last fall, "the weather had turned bad," Goldberg recalls. "It was cold and the ground was extremely muddy." J.C. Power, meantime, focused on the installation of the wiring and inverter. "Powers is a small shop, but a very good one. It's provided 99 percent of our electrical work in the years we've been in Palatine," says Throop. Characteristically, Schneider performed much of the project's design, including grounding and panel configuration. Weather conditions dictated some aspects of the design. Wind loading studies, for instance, indicated the installation should rise no higher than 15 feet from grade level to the outermost corner of the diamond-shape panels. "The longer the post, the longer the lever, which would have created problems in the event of wind gusts," Throop says. Valued at $750,000, the project qualified for a 30 percent federal tax credit, an accelerated federal depreciation schedule, a state incentive of $3.25 per DC watts, and the sale of renewable energy credits. Nevertheless, payback on installations incorporating renewable energy require time, in this case an estimated eight to ten years. However, Hanna says payback is just one of several considerations driving investment in renewable energy. "In our case, one of the goals was to demonstrate that the impact on carbon emissions is immediate. And that we all have to start somewhere." Chris Curtis, CEO of Schneider's Building and Power North America business, indicated as much during a "flip the switch ceremony" in December. "This installation showcases how the use of energy-efficient and renewable solutions together play a role in solving our energy dilemma," he said. "We hope to serve as an inspiration and resource for other businesses as the demand for sustainable energy continues to grow."