Green By Design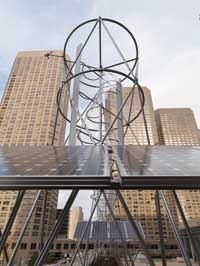 There are wind turbines and solar panels, bamboo floors and chairs made from plastic bottles — even insulation panels incorporating recycled blue jeans.
Small wonder Chicago's PepsiCo headquarters, located at Jefferson and Monroe, is among the few area buildings to receive the U.S. Green Building Council's LEED Existing Building Silver Certification. PepsiCo likewise has received the U.S. Environmental Protection Agency 2009 Energy Star Sustained Excellence Award.
By harnessing alternative energy, PepsiCo has slashed its electrical consumption by 22 percent since renovating the facility last year. Although solar panels are becoming more common in commercial applications, wind turbines, like those situated atop the PepsiCo building, remain something of an anomaly, according to Jerome Elbert, project manager with the Skokie-based Continental Electrical Construction Co., the project's electrical contractor. "The PepsiCo installation is essentially serves as a prototype," he says, noting the turbines initially confronted hurdles owing to concerns about noise and aesthetics.
Due to height restrictions and safety concerns, the installation incorporates cylinder turbines rather than blade-based ones. "The cylinder turbines also require less air volume," says Elbert.
To tackle the PepsiCo project, and others like it, Continental employees receive LEED training from the U.S. Green Building Council, says Dave Snyder, a project manager with the company. In addition to workshops, the council provides study guides, reference guides, and chapter study sessions to prepare students for professional accreditation. It also provides accredited professionals with continuing education.
"The council not only educates students on the principles of green design, but the technical aspects of it as well," says Snyder.
Continental employees put their training to good use on the PepsiCo project, which includes a new 4,000-sq.-ft. sustainability center powered by the turbines and solar panels. Flat-screen TVs within the center seek to spread the word about green architecture and sustainable building components, making Continental's expertise in the field all the more timely.
Sustainable design, it seems, is here to stay.