Perfecting Audio Within The Most Challenging Environment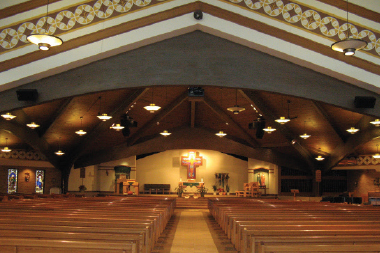 One of the most challenging types of acoustical projects is that of the church structure. All too often, these interior spaces are made of boomy, echoing halls filled with tile and wood, and high, unusually-structured ceilings that absorb or reflect sound in ways that are highly unpredictable.
Recently, the low voltage integrator Advent Systems, Inc. of Elmhurst, IL, took on one of their most unusual audio projects, as they addressed the unique concerns of the Prince of Peace Catholic Church in Lake Villa. Poor audio quality had become so disruptive to the congregation experience, the team at Advent was contracted to overhaul its entire sound system.
"Because of the design, glass walls and tiles, there was a five second reverberation," says Andy Barys, A/V Sales Engineer for Advent. "And where there are hard surfaces all around, sound is a real problem.
Advent specializes in creating custom designed state-of-the-art audiovisual systems for a variety of venues including, board rooms, training centers and houses of worship.
Nevertheless, the Prince of Peace Church presented some unique challenges. For example, because of the building's design, there were only a couple of locations where load-bearing beams could safely support the speakers.
"We talked about installing steel beams, but aesthetically, it didn't work," recalls Barys. "At the back of the church there was another beam. We mounted separate speakers there with a time delay so the sound from the front of the church and the back would hit the listener at the same time."
Barys and his acoustical designers used a special software program to ensure technical excellence. The program, Enhanced Acoustic Simulator for Engineers (EASE), allowed the team to input the dimensions of the church interior and then try out different speakers to visually stimulate how each reacted in the space.
Each array of speakers weighed between 400 and 450 pounds, and had a curve at the bottom for a focused output that kept sound from bouncing around the interior of the building.
Custom brackets had to be crafted and mounted to each. Testing ensured they could carry five times the weight limit capacity.
Another challenge the team faced was working around the floor and pews without disturbing parishioners or the architecture itself. Advent utilized moving scaffolding that allowed them to remove the old speakers and wires and maintain their schedule.
The new sound system incorporated two touch screens – one for the pastor and one for the music director. The system also uses ribbon technology, which incorporates a type of driver that is built into the speakers to eliminate feedback from the microphones.
No matter how sophisticated the technology, Barys and his team depended on the oldest and most trusted way of determining if the project was a success. "The final test are the ears," Barys insists.